What can you do with the Amazon Competitors' Keyword Finder Tool:
Find the best traffic-generating, most converting and top-ranked organic keywords of your competitors.>>Target only the keywords that can bring traffic and sales!
Find keywords that buyers are actually searching on Amazon to find your product.>>Optimize based on those long-tail keywords to seize the traffic that you didn't even realize it exists.
Find the best buyer keywords that have large search volume but low PPC bidding. >> Focus your keyword ranking effort on those expensive keywords and use PPC ads to target those cheap keywords to maximize your time and cost efficiency!
Step 1: Login to your AMZDataStudio account and click on "Competitors' Keywords Finder" at the sidebar.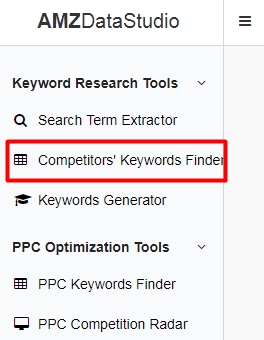 Step 2: Enter your or your competitors' ASIN and choose the corresponding marketplace. Click "Extract".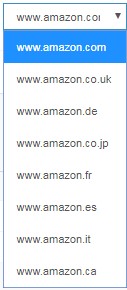 Currently, we support USA, Canada, UK, Germany, Japan, France, Spain and Italy, a total of eight Amazon marketplaces.Please make sure you copy the ASIN directly from Amazon to avoid any misspelling at typing manually.
Recommendations:
Enter the best sellers' ASINs here to find all of their top-ranked keywords.
Enter your own ASIN here to find the current ranking keywords that are bringing traffic to your product.
Step 3: The result will show up in the "History" section below the search box. Click on "Refresh" if you cannot see it. Click on "See Result" to go to the result page. (No credit will be deducted if there is no result for that ASIN.) Please noted that our system will only return those search terms which have generated traffic to that particular ASIN in the past. That is why sometimes you can only see a few keywords if you searched for a lately launched ASIN. Our advice here is to choose a product which is the most similar as yours, has good ranking for a big keyword and has the most sales and reviews in order to get the most data out of it.

Step 4: Our system will extract all the best traffic-generating, most converting and top-ranked keywords of that ASIN. You can sort all keywords based on any metric by clicking on the metric title or entering any word in the search box to make it only show those keyword phrases which contain that particular word.
Our system will provide accurate data of keyword ranking position, keyword search volume, product numbers, average reviews, average rating, average price, recommendation score and suggested bids for broad/phrase/exact match. Those are all the data you need to select your keywords.

So let's assume that I just launched a new "weight loss supplement" product on Amazon, and here is one of my top 10 competitors. I chose this listing to analyze because judging from the number of reviews, it's been around for some time so there should be quite a lot of data that will help us.
Now let's grab its ASIN and paste it into the reverse ASIN lookup tool. Don't forget to choose the marketplace relevant to you, for this example, I'm going to choose Amazon US; and click "Extract". Then, after a Refresh, click "Show Result".
Now, we got more than 700 keywords to work with, if we sort by Rank, we'll see which keywords are ranking best for this product, in fact, our competitor is ranking No.1 for a lot of keywords, and we would have never known this if we hadn't used the tool.
We can also sort the keywords by Search Volume which will show you how many times the keyword has been searched for on Amazon in the past month; or we can sort by other values like The Keyword Product Number, Average Reviews, Rating, and Price. All of this data can be used together to analyze the competition of that particular keyword. We also combine this information to calculate the Opportunity Score. The score is made to help you identify low competition keywords fast. The higher the score, the easier it will be for a product to rank on the first page of this keyword.
Another piece of information this tool provides is the suggested bids. Our tool monitors all sponsored ads on Amazon 24/7 to collect their bids and ads position changes; then based on the collected data, it gives you the most accurate bids suggestion for each of the 3 different match types: exact, phrase and broad. So if you want your ads to appear on the first page of the Amazon search result, you can simply bid for it with the suggested bids provided by our tool, and adjust it slightly within the bid range in a week or two, to see which works best for you. So, you will never need to worry about bidding too high and wasting your money or bidding too low and not getting enough impressions.
If you sort the bid from high to low, you will see the most expensive keywords, these expensive ones should be removed from your PPC campaign, instead, try to target them by SEO. Or you can create a separate campaign just for them, otherwise, they will eat up all of your budgets quickly, and other much cheaper keywords in the same campaign will never get a chance to be shown.
If you want to know what keywords your own products are ranking well for, or what search terms people used to search and found your product, you could also enter your own ASIN in the keyword tool and it will provide you with all the buyer keywords that Amazon ranks your product for, something you might not have known people were searching for. That can be very helpful when it comes to listing optimization to get more targeted traffic and improve conversion rate.
Last but not least, you can quickly find the keywords you are interested in by typing them in the search box, or by downloading all the data as a CSV file and doing your own filtering using Excel.