Have you ever spent thousands of dollars to launch a product with giveaways and hoping to get it ranked on the first page of Amazon for your targeted keyword?
What is the result you get? Hmmm…
Recently we found there are quite a few sellers in our community spending a lot of time and money on keyword ranking. However, they are very upset to see no keyword ranking improvement at all even after giving away 100 products!
They are very confused and upset, not sure what is wrong with the whole process.
If you are one of them, please continue to read…
The main reason behind this is
Your product is not indexed by Amazon for the keyword you want to rank!
You can never achieve good keyword ranking if your product is not even indexed for that particular keyword, no matter how many giveaways you did through super URL.
That's why you should always ask yourself 3 questions before you start to invest in keyword ranking:
What are the keywords I want my product to rank on the 1st page of Amazon? 
Are they indexed by Amazon?
Are they worth the money I will spend on getting them ranked?
We will teach you how to find the best keywords to rank for your product in another post.
For now, let's assume that you have already found the perfect keywords for your Amazon listing.
Let's see what is the fastest way to check the index status of all your keywords.
Amazon Keyword Index Checker
Step 1:  Install this free and powerful Chrome extension: Amazon Keyword Index & Ranking Checker
Step 2: Paste in all your keywords, ASIN and choose your Amazon marketplace.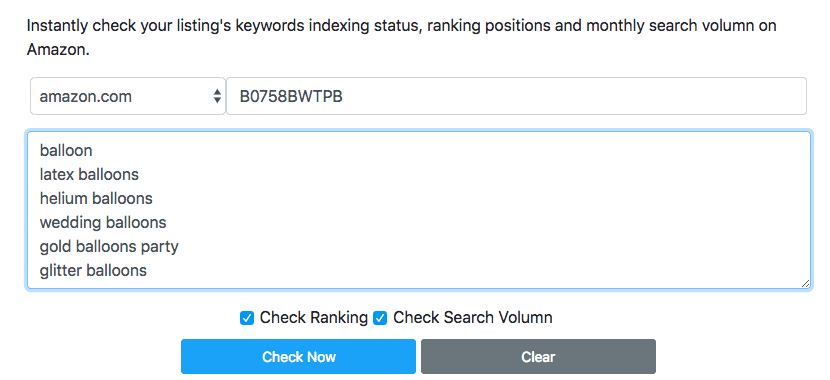 Step 3: Click the "Check Now" button and see the result coming out in a few seconds!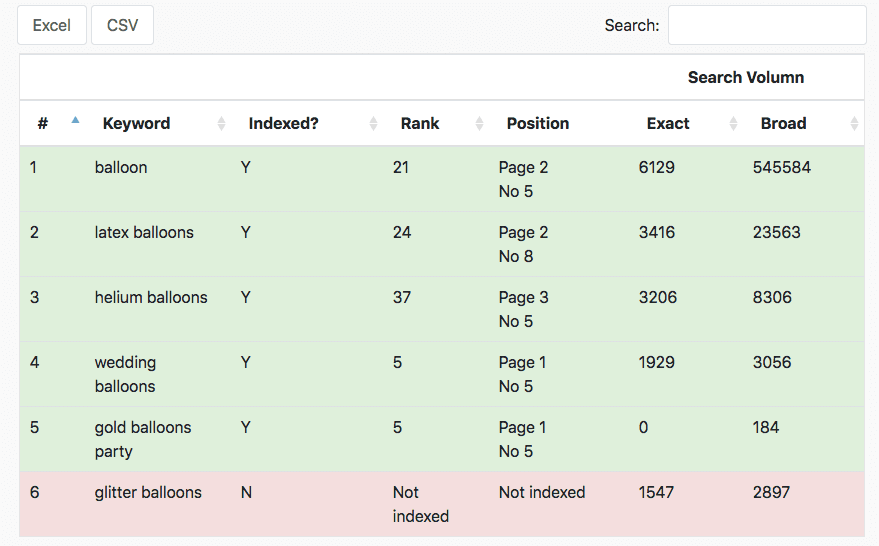 Now you can easily see what are the keywords you have been indexed by Amazon, how well they ranked and what is the search volume for each keyword.
You can also use this tool to check the index status of all your search terms after optimizing backend keywords.
We found that this product is not indexed for the keyword "glitter balloons". So before you wasting money on ranking this keyword to page 1 of Amazon, you should first get it indexed.
But wait!
Does it worth the time you will spend on getting it indexed and ranked?
Let the search volume tell you!
Check Keyword Search Volume Automatically
Search volume is the most straightforward metric to measure market demand, which affects your sales.
This Chrome extension is the only software on the market to instantly pull the real-time search volume directly from Amazon! (It requires you to sign in to your sellercentral because it needs to pull the real-time search volume data instead of estimating it based on historical data like what the majority keyword research tools are doing… But you don't need to worry about safety because it won't access any data in your sellercentral account.)
So after checking the indexation, the tool automatically shows you the search volume for each keyword, so you can easily sort by search volume to see the most and least demanding keywords. This could save you a lot of time from running a search volume check again.
For example, I don't think you should spend time and money on ranking "gold balloons party" with such a low keyword search volume.
In the next post, we will teach you our powerful tricks to get any keyword you want indexed! You are highly recommended to subscribe to our blog from the subscription box in the right sidebar and never miss a single opportunity to improve your sales from now on!
What are the other Amazon topics you want to learn in our future articles? Comment below to let us know and we will make an article for it!
Like this post? Share it with your friends!